Ready to Make a Million Bucks?
From the Desk of: Super Duper Mack Daddy Millionaire, Mr. Backwards Hat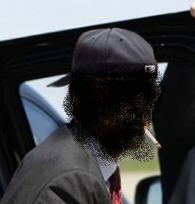 Before I get into all the GOODIES, I want to really emphasis that this is going to sound absurd to you.  It may even sound like I am telling the BIGGEST FIB EVER!
However, I need just a few minutes of your vastly important time.  This could very well CHANGE…YOUR….LIFE…FOREVER!!!!
Back in 2010, I was dead broke.  I worked a part-time job at a burger joint and could barely pay my parents my monthly rent (I was 38…I know, lame).   I saw everywhere around me people making loads of money.
Wall Street billionaires.
Internet billionaires.
Oil Billionaires.
What if I could earn just 1/1000th of this and earn $1 MILLION dollars.  I knew that this was more than achievable as 1 in 30 of Americans are millionaires!  Just because I was a loser and lived at home didn't mean I couldn't achieve a million bucks.
Then I found the Internet.  The place where money making is easy and achievable for everyone.   I figured if I could earn $1 off of 0.001% of all the Internet Users out there, I would be a millionaire.
Did you know that there are over 1 BILLION Internet users?  Did you know these people spend a crap load of money online?
In fact, the other week (yes, a 7-day time frame), I made ONE MILLION BUCKS with a proven system that I personally invented.  I basically created my own ATM on the Internet that continues to spit out cash!  The time it takes you to read this I have probably pocketed another couple grand.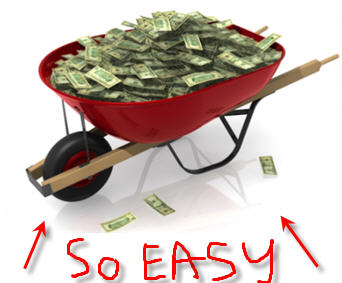 The thing is, the technique that I used to make this money is something that anyone can do! Grandma, grandpa, mom, dad, son, daughter…the whole family can achieve fascinatingly massive amounts of revenue online.
Now what you are probably thinking is that if I have truly found the SECRET TO SUCCESS ON THE INTERNET, why the heck would I want to share it with anyone else.  What normal minded, greedy human being would let someone else in on a secret that makes them millions of dollars every month (like clock work)?
As I thought about this, I weighed what benefit there would be to me selling this information to others versus keeping this secret to myself.  I know that the Internet is so darn large that I simply cannot tackle every niche market that has this sort of opportunity within it.  There are literally 1,000's of these endless money making pits every where.
I figured instead of holding the secret, I would make another million bucks selling this to people like yourself.  My conclusion: I would sell this information for a small fortune to a few lucky people.
I mean, WHO DOESN'T want to live the dream lifestyle…  Nice houses.  Fancy cars.  Nice Yachts. Expensive dinners. Ridiculously good looking people.  Neverending vacations.  All with very little work.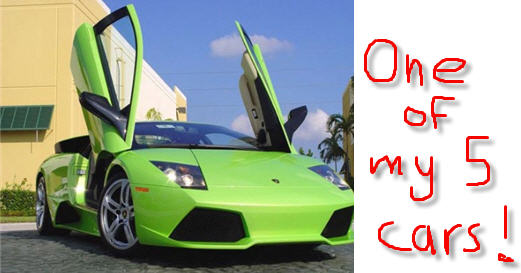 THIS IS A PUSH BUTTON SYSTEM!!
You barely have to wake up in the morning…sometimes I don't roll out of bed until NOON and when I check my affiliate stats (yes this is all affiliate based earnings) from the night before, I have had loads of customers all of the world buying what I am selling.
**No customer support.
**No dealing with transactions.
**No shipping.
I don't even own any products!
I have proof showing you exactly how much I make every week (look at my check below):
Actually, I even have happy customers knocking down my door with testimonials!
——————————————————————————————–
Joe Dirt's Feedback…
Dude, you made a lot of money.  Now so have I!! F yeah man.  I just signed up to your program (which is under-priced BTW), and made a million bucks in just over one week simply by clicking a few buttons. This is ridiculously awesome.
PS.  Can you stop selling this to others…I don't want ANYONE else knowing the secret.
——————————————————————————————–
Mary Jane's Feedback
Mr. Backwards Hat…I want to thank you so much.  Thanks to you and your program I went from a struggling mother with 12 children, to a millionaire in 6 days.  In fact, I was making all this money while sitting around watching Maury all day.  Hellz ya.  Thanks again for the info…unbelievable stuff and so easy anyone can do.
——————————————————————————————–
Chewy's Feedback
OOOOOOOOOHHHHH YA.  This push button system just made me $1,045,053.97 in less than 7 days (6 days and change).  I am getting approximately 76,000 clicks of real traffic (and an average stick time of 7:32) every day.  I cannot believe my eyes….not bad for a grade 8 dropout (I am only 15!).  I just bought my parents home off of them and they are now renting off of me!  Fick ya.
——————————————————————————————–
Well Known Author's Feedback….
After writing over 50 books in my lucrative authoring career, I have to give it up to your Mr. Backwards Hat.  You have topped all of my major accomplishments in one, underhanded swipe.  This program is going to make me more money this week than I made in the past 10 years writing acclaimed novels.  I am embarrassed.  If you are reading this and have not bought this program, you should be afraid of your own potential.  Millions of dollars are coming your way!
——————————————————————————————–
Actually, I am going to show you how to do it.  It is easy, requires next to no work.  If you can push a button, hell…you can MAKE A MILLION BUCKS THIS WEEK!
This is a super shocking strategy that very few people know about…in fact, I AM THE ONLY ONE (and a few lucky people that I let buy the program in advance for over $10,000)
UNTIL TODAY!
What would you be willing to pay for a proven strategy that will take less than 30 minutes of your day and earn you a MILLION BUCKS by next week.
OK, I know exactly what you're saying.
This is "HORSE S%*&".  There is no way this is possible.
Well, you don't know the secret loophole that I have found on the Internet.  This is super black-hat-ninja-killing stuff.
This is something that anyone can do.  If you don't like it or you don't make the money I am claiming you will make (ONE MILLION BUCKS), you can get a full refund.
Really, what can you afford to lose.  This is a NO RISK OFFER.  You are not even taking a chance…I am basically giving you the tools to make a MILLION BUCKS by next Friday!
So how much?
Well, since I know this is going to make you in excess of  ONE MILLION BUCKS, I should be charging you at least 10% of that, or $100,000.  I know however that the recession has hit hard and most people will not be able to come close to spending this much on an info product.
So today I want to make you a special offer…
How does $1997 sound?  Still a little steep?
OK, fair enough.  I am going to give you my entire MILLION BUCKS PER WEEK Course, which includes one on one mentoring with a phone operator that has been trained specifically from a manual I created…for the low price of….
(CLICK THE "BUY NOW" LINK TO FIND OUT)

This offer is only good for ONE DAY!  It is coming down at April 1st MIDNIGHT EST.  I am only going to be selling ONE MILLION BUCKS worth, so after the first 1,000 are sold, I will be taking this page down.  I figure that it will probably sell out within the first hour, so don't waste any time.